How to Create Your First Painting?
Views: 123 Author: Site Editor Publish Time: 2019-09-03 Origin: Site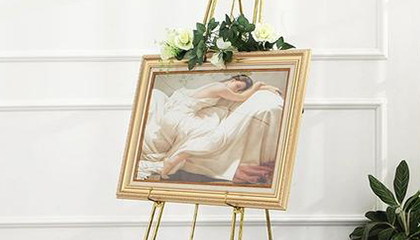 Painting is an art that can describe the beauty of everything around you and show your inner feelings about them. So when the inspiration of painting occurs to you, what should you do to create your first painting? That is what I want to tell in the following, hoping that you could have a fantastic painting experience.
Selection of Painting Types
When you decide to draw your first painting, the first thing is to choose the painting types. Generally speaking, there are three kinds of paintings: oil paint, watercolor paint and acrylic paint. And they have different features in various aspects.
Oil paint is a traditional paint with long history. It is the pigment mixed with oils such as linseed, safflower or poppy, and thinned with turpentine. Additionally, Mona Lisa and Sunflower are the famous masterpieces of oil painting.
Watercolor paint varies from the oil paint. It uses the pigment mixed with a binder made of Gum Arabic and additives to improve solubility and flow. Moreover, it is more convenient and easier to cleanup than the oil paint.
Acrylic paint is a more modern alternative. It is until the 1950s that this kind of painting became commercially available. It uses the pigment that is suspended in a plastic polymer and can be used on almost all surface. Virtually, it has a variety of applications because it can be used thinly like watercolor paints or more thickly like oil paints, just depending on the desired effect.
Color mixing
People who begin to learn to draw may hold the view that color mixing is very difficult. But the basic knowledge is rather easy. Beyond doubts, color and pigment provide so many different painting possibilities and nuances that an artist could spend a lifetime exploring color, color theory, and color mixing. Thus, you should be brave to face the challenge of color mixing and you will master the skill quickly, whether the right tints or the right shades.
General Steps of Painting
The steps of painting vary from individual to individual because of personal habits. And I intend to give some common steps.
First, you should prepare the art materials and art tools, such as artist watercolor paint sets, professional stretched canvas for painting, artist quality acrylic paint and various paintbrushes for beginners ensuring that essential drawing tools get ready in order to avoid unnecessary troubles in the process of painting. Then, you should lightly sketch out the composition on the canvas. Next, you should block in the main areas of color across the canvas. Finally, you can start with the larger shapes and work towards the smaller ones, gradually perfecting the details.
Inspiration of Painting
Sometimes the ideas will come to you unexpectedly while sometimes you have to find the ideas. Consequently, you should look at the surroundings carefully and feel them from the bottom of you heart. Once you find an idea happens to you, you should write it down so that you will not forget the idea and can use it when you need the inspiration.
Safety Tips
You should foster strict working habits because sloppy work habits can be dangerous.
You should avoid eat anything when you are creating a painting.
You should use nontoxic art materials. If not, you should know what precautions you need to adopt.