Marc Taro Holmes:Citizen Sketcher
Views: 67 Author: Site Editor Publish Time: 2019-08-08 Origin: Site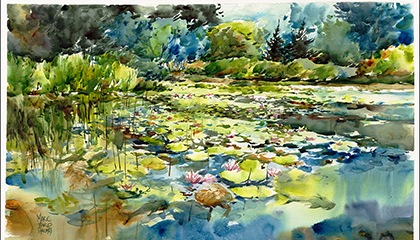 Mark Taro Holmes is an American artist who has worked as art director and concept artist for more than 15 years. He is also a game designer, who has done a lot of video games. Of course, he is a sketching blogger as well. Mark has been sketching for years, publishing a book on the subject and offering several online courses. On his blog, he shared his latest drawings and sketches.
Mark is also a sketch artist. He firstly constructed a sketching pencil and sketching pen, and then rinse with water, what he calls ``coloring". He also made rough sketches with pencil and pen. In addition, he is good at watercolor sketches, using painting palette, so as to create a beautiful work. Mark usually chooses architecture and urban space as the theme, but sometimes it is vehicles, art and portrait. Actually you can say that he is a multifacet.
He is a very skilled sketch artist, and even the sketches he draws in a short period of time look great! In his blog post, he explains his artistic process. There are also several teaching courses on his website that are worth following.
On his blog, he "excitedly announced" the publication of his new book, "apocalyptic variations -- 30 paintings in 30 days."

"This project was a completely different experience for me.
In recent years, with the slow decline of my parents' health, the end of my career as a commercial artist, and the realisation that my dreams of full-time travel and art no longer fit the reality (I'm too old and, frankly, too poor), I have to face some serious questions about why I do art.
What motivates you to live this lifestyle? Is it worth it? What is the value of my life's work in painting? In particular, my brand paintings are quick, direct and expressive. I like the job, but in the eyes of some people, it may be below the level of "real art". This book seems to be my first step into the future."
From this we can find that Mark's work is the thinking and prospect of his own life or so-called painting. He wants to tell us something through his work so that we can better understand painting and art.
"Painting on site is almost a mechanical process. You are an art camera. You record what you see like a documentary filmmaker. Yes, of course, it's art. Each person's view of a place is unique. But - it's always easy to float. To avoid being too serious. Go somewhere nice and enjoy your trip. Draw some beautiful pictures."
This is his suggestion in his blog. In fact, this is his understanding of artistic creation. He is like our first painting teacher, or a soldier who has experienced many wars, leading us into a wonderful and different world of art. When we are in trouble, he always seems to give us the strength to survive all kinds of crises and eventually become outstanding masters of art.
Get professional sketching painting sets, please contact us. Hangzhou Medo Import and Export Co., Ltd. is a professional art material manufacturer, who producing sketch pencil, sketch easel, and drawing sketch pad with best price and high quality. Welcome to your messages.