7 Essential Art Materials and Tools
Views: 59 Author: Site Editor Publish Time: 2019-05-25 Origin: Site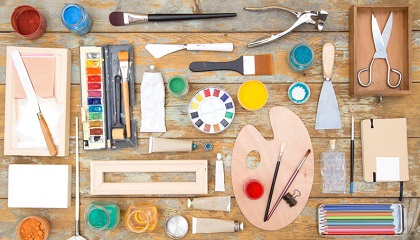 7 Essential Art Materials and Tools
How to choose the art supplies is a technical issue for personal preferences, creative goals, media and cash. Sometimes, it may need a lot of money. Materials become expensive now so you don't want to waste money on things you don't need. But whether you are going to do watercolor painting or oil painting, whether you are a beginner or a professional, you will definitely want something. There are seven main points here.
1. Graphite pencils
Most of the time, you'll sketch your subject (or at least the trickier parts of it) before pulling out the paints. That's why it's crucial to have a reliable set of graphite pencils. No need to go wild; three or four are enough. Just be sure to get a 2B for general sketching and shading, a 6B for creating dark shadows and a 4H for lighter shading.
2.Kneaded eraser
You need a white eraser to rubbing out mistakes, especially if you want to redraw the sketch. But you also want a kneaded eraser. These soft, pliable, putty-like spots can be shaped in different ways so you can remove small details or create subtle shadows. In addition, they will not leave any annoying "debris".
3. Drawing paper
You don't need fancy watercolor paper sketchbook to paint like a professional. A cheap sketch board can also make a difference and make you feel good.
4.Painting Paper Pads
After finishing the sketch, you are about to start painting on heavier paper stock. Your best choice depends on the type of paint you plan to use.
If watercolor, the most convenient option is a pre stretched canvas for painting. Otherwise, you will have to stretch the paper yourself, which involves soaking each piece of paper in water and tape it to the board until it dries. You ask, why should you stretch the paper? Because it helps the paper to remain flat when wet, preventing paint from accumulating.
For acrylic, there are two options: canvas or heavy acrylic paper. Paper pads can save you space. They are also a bit cheaper than the canvas. But canvas is harder than paper, so it's always flat, even if you're painting outdoors.
This is another basic supply that you don't have to spend too much. You can buy cheap plastic pigments at local art supplies stores, perfect for watercolors or acrylic paints. Plastic palettes are also easier to clean!
If you're painting in acrylics, then you will need:
A filbert for general painting and smoothing out details. A size 6 is perfect for medium size paintings.
A flat wash brush about 1 inch, mostly for painting backgrounds.
A small liner brush for fine details.
For watercolors, your three must-have brushes are:
A medium or large flat brush (3/4 inch) for cleaning.

A circular brush (size 8, 10 or 14) for general drawing.
Lining brush (No. 6) for smaller details.
7. Paint
You don't need a gazillion paint tubes to produce beautiful art, especially if you're a beginner. This is true for watercolors, oils or acrylics. All you really need is at least one tube each of blue, red, brown and yellow. You can mix them to create new hues.
For example, you might just need: Phthalo blue,Phthalo green,Gamboge yellow,Cadmium red,Alizarin crimson and Burnt umber.
With these basics, you can start creating art — along with a few messy experiments too!