How to Select the Best Watercolor Palette?
Views: 69 Author: Site Editor Publish Time: 2019-07-27 Origin: Site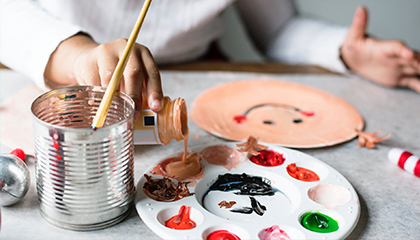 Watercolor mixing palette is a common palette for painting. There are two kinds of common ones. One has only a palette, and the other has two parts of pigment container and palette container with solid pigment blocks. It has the advantages of holding a variety of colors and suitable capacity, easy to carry and use.
The style of watercolor palette
There are many different professional watercolor palette, including rectangular palettes and oval palettes. Currently, most of the palettes sold are rectangular palettes, possibly because the rectangular palettes are simple to make and fit into oil painting boxes. The palate is made of wood and consists of three layers of wood or veneer. It's about 40 centimeters long and 30 centimeters wide, and it has oval holes in the edges that extend to the thumb, and the edges are curved so that you can put your hand inside. There is a wooden cushion in the thumb hole, which is light and comfortable. The wood palette is similar to the linen palette, and the resulting colors are used on the canvas without the need for tonal transitions.
The relatively delicate palette is made of pear, apple or walnut wood, which is not easily deformed and has smooth surface that is easy to clean. Not all artists use palettes. Pointillist painter seurat used a tin lid, not a palette. In addition, using glass as a palette has two advantages. One is to prevent the dry skin of unused pigment, which can be deposited in water after use. The other is to replace cellophane according to the background color of the screen. But the glass plate must be placed on flat surface and supported stably.
Material characteristics of watercolor palette
The palette is made of wood, plastic, glass, metal, paper and other materials. The shapes are rectangular, oval, round, foldable and curved. Palettes made of wood or plywood should be carefully polished and smooth, and should be coated with linseed oil or varnish twice in advance so that the palettes no longer absorb oil. The palette used to be mostly brown, because early paintings used dark backgrounds for accurate color mixing. For example, use a white and gray palette when using a light background. In the dyeing phase of transparent painting, it is best to use a white palette to adjust the transparent color so as to estimate the painting effect more accurately. After each use, we should clean the remaining stains, turpentine and other solvents with the palette. Finally, we can wipe the palette with linseed oil to make the surface smooth to protect the palette. If necessary, we will carefully scrape off the paint and place it in a small glass filled with water. Then cover it up and don't let it dry.
Choose a watercolor palette in paint mode
As for how to choose different plastic painting palette according to different paints. If you prefer the former, you can choose a palette that is easy to clean. If it's the latter, you'll need a collapsible palette so the colors don't get inverted. It's even better if you have a lid to keep dust out of the paint. If you are very clean and organized when you draw, the floral palette will suit you. If you like the freedom to do what you want, you might prefer a palette without barriers. If you're somewhere in between, go for something that has small partitions and lots of space. If you're out painting a lot, you might like to seal your palette to keep paint from leaking. A single color palette is ideal if you mix colors accurately or in a small range. If you want to mix paint in a larger area, you will need a larger palette.