How to Transfer Photos Onto Canvas ?
Views: 76 Author: Site Editor Publish Time: 2019-06-23 Origin: Site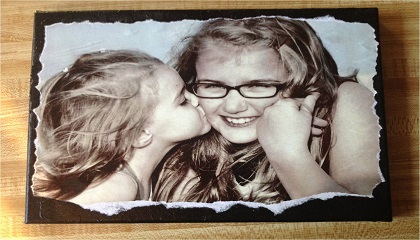 Nowadays, with the development of painting industry, diy canvas painting has been more and more popular. While canvas can be used as a medium that can carry photographs, which can be a gift for your friends. So how to transfer photos onto canvas?
At first, you need to gather your materials required, including fine tissue paper,an iron or other flattering material like a stack of books, a stretched canvas for painting and sealer glue.These materials you can get from a toy store or a supermarket with cheap price.
Second, you need to trim the tissue paper so that it's the same size as the canvas will be used. You can place the tissue paper onto a table or other hard surface and lay the framed canvas upside down onto it. With a pencil, trace around all four sides of the canvas, and then cut around the four corners of the tissue paper. And then Straighten out any kinks or creases in the tissue paper with a clothes iron.
Third, manually place the tissue paper into your printer tray and print out your desired image. This may take a few tries, but the end result will be worth it. Adjust your printer settings so that the printed image is only as big as the tissue paper.
Forth, center the tissue paper picture over the canvas before pressing it down onto the adhesive. And then you need to get one corner centered perfectly before placing the whole image down onto the canvas. With a clean foam brush, smooth out any creases in the tissue paper.
At last, it is necessary to cover with another layer of clear adhesive before letting dry. And then finish to seal your newly-minted canvas photo. If necessary, trim any remaining tissue paper from the sides of the canvas for a clean look. If you are interested in painting, hope this article can be helpful for you. Hangzhou Medo Import and Export Co., Ltd. is a professional art material manufacturer, who producing professional stretched canvas for painting with best quality and reasonable price.