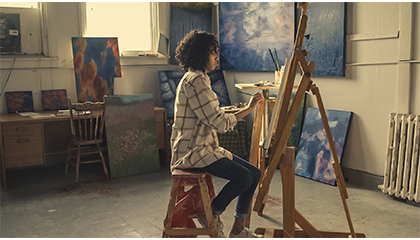 Painting is an interesting skill. It can show your ideas to others in graphics and colors. And you only need to use some simple tools! No wonder so many people dream of learning how to draw. However, it is not an easy skill to master. I'm going to talk about the top ten taboos on painting.
1. Painting is a simple art.
When you were a kid, you used to paint, and you were sure you could. Until you notice that some children get more praise for their pictures, you think the value of painting is to describe reality in real terms. But no matter how hard you try, you can't draw more like it, and gradually you come to the conclusion that you can't draw.
There is a process of achieving proficiency in the study of any skill. You can pursue perfection, but the more you learn, the slower you progress.
2. Without talent, you can't learn to paint.
For people who are just beginning to learn to paint, their painting skills can not always complete the picture that his brain wants to represent, but they see many people who seem to complete it very simply. When you try to draw a simple drawing with lines, they use the same time to draw a realistic character. It's strange when you say "I wish I could paint as well as you". Isn't that a sad expression of your lack of talent?
Talent can be seen as a trait or ability to make a person learn more effectively. A talented painter may pass through the previous levels faster than others, but they are not immune to the growth of the difficulty index at each stage.
3. Sometimes it's good, sometimes it's not good.
The higher our ability to paint, the farther away we are from reality. If you can walk over anytime, why are you trying to remember what a cat looks like? Drawing skills based on this basis do not have the opportunity to further study. If you don't do it, your brain won't be able to use these skills to make a realistic painting.
Some experienced painters have a lot of skills in their minds. They were able to sketch out well-structured human outlines without using any auxiliary lines, which they had spent hours trying to do. In fact, this is the same for any technique-if you persist and practice, slowly, your level will become more and more perfect.
4. Painting is a matter of pleasing others.
When we were children, we painted simply for pleasure, and we soon discovered that if we painted well, it would bring sweet appreciation. But if you see this as your only motivation to paint, then you're ready for some setbacks. So when you get the feeling I want to paint, ask yourself why you want to paint. Make a list of reasons why you want to paint, and see if they're worth it.
5. Good works are realistic works.
Style is not simpler than realism, and it is not the method of creation of lazy and unskilled people. It is relatively more difficult. To some extent, individualism is an innovative realism, because there is no corresponding copy of reality for reference, and we can all recognize it.
6. If several attempts are still in vain, you are not fit to draw.
If you 've been learning to paint for many years and you're still slow, much like some beginners, it doesn't mean you have no talent for painting. It's more likely that you haven't mastered the real way to study all these years!
7. A good artist can paint what he thinks.
A good artist can not paint what he wants, but he can learn what he wants. They know what they want and how to plan their skills upgrading.
8. The art can be improved by having special painting tools.
You have so many drawing tools to use, like the acrylic paints for painting,paint brushes for acrylic painting, painting tools, acrylic painting canvas, etc. But it doesn't mean you have to use the best tools, or you're doomed without them. Use the easiest one for you now, master it. Once you 've mastered one, level 6, you can expand your skills. But don't turn to another tool just because it's difficult.
9. It's too late to learn to paint.
Painting is not a skill that must begin as a child. Painting is related to youth because young people have less responsibility and more time to do things that are just for fun. As you get older and older, you become more critical of the results of the output, so the painting itself becomes no longer happy. You may not be good at many things, such as basketball or playing games, but you can still enjoy them with your friends. In contrast, painting seems to lose value after poor painting.
10. Drawing and Painting need the same skills.
Sketching is not the same as painting. If you think you're good at sketching, and when you turn to digital art, you can't really put on a color palette, it doesn't mean that you're not really good at painting, and you're moving into another field, despite years of sketching experience. But now you're new to board painting.
Sketching and painting have some overlapping techniques. These creative techniques also apply to sculpture. Other aspects relate only to the areas covered. For example, precision is more important in sketching than painting. If there are artists who claim to be able to create with any medium, then it is certainly not true.