12 Tips of Stretching Learning
Views: 47 Author: Site Editor Publish Time: 2019-07-06 Origin: Site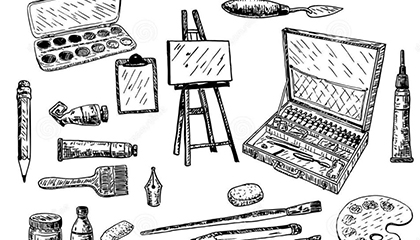 Sketch is the foundation of painting, the skeleton of painting; those who begin to paint must first learn to sketch, and sketch can be divided into two categories: creative sketch and sketch. There are many types of tools for sketching, such as sketch pencil, sketch easel, drawing sketch pad.
Are you experiencing some problems in the process of learning to sketch? Here I will share 12 tips today to help you master the sketch faster.
Know your tools
As with any other art-related practices, it's ultimately going to be up to you to explore different supplies/techniques so you can arrive at your personal favorites. However, what you should know is that you can go far with limited and suitable supplies, such as the sketching pencil, sketching paper, rubber graphite eraser, metallic sharpener and etc..
Don't press too heavily
A sketch is intended to be the base or draft of an image. Therefore, when you start your sketch you should use a light hand and lots of short, quick strokes. This will make it easier to test out different ways of drawing a particular object, and will allow you to erase mistakes much easier as well.
Draw lines to measure the distance
If you want your portrait to look like real life, you need to sketch the features of the face at the correct distance from each other. Eyes can be closer or wider apart; noses can be longer or shorter.These details are what make a face recognizable.
Apply the 70/30 rule



Less can be more! The 70/30 rule helps you create effective compositions. The idea is that 30 per cent of your sketch is filled with the main focus and detail, and the remaining 70 per cent is filler.
Squinting
When looking at whatever you want to paint, squint your eyes down so that the whole subject darkens down and the areas of dark and light become more defined.It will identify where the shaded areas turn to mid-tone and then to light. It will identify the value and chroma qualities quickly because you will not be distracted by many small derailing details.
Structure and light
The first is the structure, the second is light, and black and white is its appendage. We only use black and white to understand the structure of the body, but sometimes black and white will also distort the original appearance of the structure.
Auxiliary of plane techniques
Sketch line techniques also require the aid of planar techniques. Plane technique When using charcoal chalk, the brush stroke method can be used on the light and dark control.
Try doing a gesture drawing
Gesture drawing is a form of sketching where you use continuous movements and connected lines to draw your subject, without ever looking at your paper.It can help you to get a good idea of the basic forms in your drawing, and help to set a base for your final drawing.
Add further details
Perfect your lines and presentation until you are satisfied that you have captured the perfect representation.
Artistic strengthening
Sketches can also be used as a basic material for multi-color brushes to enhance the artistic effect of sketching and sketching.
Three aspects
A sketch should at least have three aspects of success: one is the accurate structure of the body, the other is black, white, and gray, and the third is the focus of the center.
Make sketching a habit



Getting into the habit of sketching regularly, is probably the most important of all.If you want to get better at anything in life, you have to do it consistently. taking even 15-20 minutes a day to sketch will get you far, as long as you make sure to continue.
Get professional sketching painting sets, please contact us. Hangzhou Medo Import and Export Co., Ltd. is a professional art material manufacturer, who producing sketch pencil, sketch easel, and drawing sketch pad with best price and high quality. Welcome to your messages.