How to Create Fractal Dendrites with Acrylic Color?
Views: 288 Author: Site Editor Publish Time: 2019-08-06 Origin: Site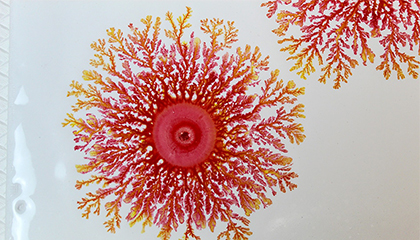 Have you ever heard about fractal dendrites? This is a fantastic printing art made by small drops of color and alcohol mixture. When they are applied again and again in stretched canvas, unique fractal flowers are created. By using different size of the paint brushes and amount of color/alcohol mixture, you can create flowers with different size.
Let's see what tools you need to create fractal dendrites:
Acrylic paints for painting: Titanium White; Floetrol; Ink; Embossing Pens / Stylus Clay Tools; Stretched Canvas (tile, Yupo paper, Wood panel, etc. are also possible); Isopropyl Alcohol 91%; Comb / Artist Silicone Brush; Paint Palettes; Paint Brush; Pipette for larger Dendrites (optional)


Preparation for Fractal Dendrites
First, choose a comfortable and spacious workplace. Then mix the white acrylic paint titanium with the floetrol in a ratio of 1 to 2 parts paint to 4 parts floetrol. Third, add some water into the mixture, make sure the water ratio does not exceed 50%. I suggest that you'd better carry out a small test to see its flow and drying performance to decide how much water you should add.
The Process of Creating Fractal Dendrites
Put one drop of ink and 2-3 drops of isopropyl alcohol into the paint palette and mix them well with the embossing pen.
Put the white mixed paint on the surface of stretched canvas and use the comb to spread it evenly. Make sure every part is flat so that the dendrites would spread beautifully. The comb just like a squeegee which can make the paint evenly presented in the canvas without wasting too much paint.
Now you can using the embossing pen to dip some color/alcohol mixture and tap it on the canvas. Different size of brushes will create different dendrites, small or big. Try to tap in the middle of dendrites, the alcohol will spread out itself.

You can keep the dendrites until it is ready or tap quickly on several dendrites. Experience has shown that you just can't change much about the dendrites once it don't get a drop. If you have good idea, you can also mix different colors to achieve unique effects.
There is one thing needs to be noted that the rest of unprocessed part will dry up as time goes by, so you should always work on these parts by comb to prevent these parts being dried. Because the drying parts will form a thin layer that inhibits the formation of fractals which will prevent the alcohol from flowing. It is also very interesting if you put several drops in a row. There are many different methods, give full play to your creativity.
After drying, you can paint the flower stems with ink and pigment for further decoration. How interesting it is! Before you start painting, some high quality art materials and tools are necessary. Hangzhou Medo Import and Export Co., Ltd. is a professional art material manufacturer, who producing artist watercolor paint sets, professional stretched canvas for painting, artist quality acrylic paint and various paintbrushes for beginners with best quality and reasonable price.