How to Decide What Paint to Use?
Views: 103 Author: Site Editor Publish Time: 2019-09-04 Origin: Site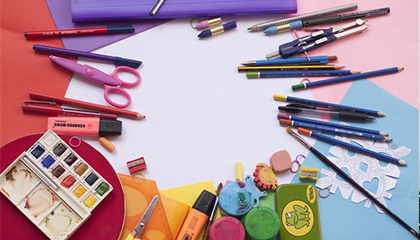 Before we start painting, we must first prepare the drawing tools. There are so many kinds of paints, how do we choose? We all know that the most commonly used paints are pastels, watercolor paint, oil paint, acrylic paint. Since different types of paint have their own advantages and disadvantages, you should choose from your preference and real situation. Besides the characteristics of paint, you also should take cost and poison hazards into consideration. High-quality paints and canvas are expensive while cheap art tools won't have good results when color mixing together. So you have to find a good balance between quality and price. Thus, you will have good painting results and don't worry about waste. If you have children or you are allergic to solvents, you may need low-odor or water-based oil paints. Soft pastels may produce a lot of dust, so you have to pay attention to the amount you inhale and never blow on the paint to remove loose pastel.
Acrylic Paint
Acrylic paint is good for beginners as they are easy to use, dilute and clean up with water. It dries very fast, and once dried, can be over painted without disturbing underlying layers. If it is used thickly, it will present like oil paint; if used thin, it looks like watercolor paint.
Acrylic is good for murals because it is water-resistant. You only need water to dilute the paint or clean the brush. But in the contrast, it is hard to be removed by rewetting the paint and difficult to remove from the brush for it is waterproof. What's more, when it is used in thin washes, the color dry a little dark than when applied.
Oil Paint
Oil paint is classic, often used by the old masters. It dries slowly so allowing you enough time to work and blend colors. Once dried, it can be over-painted without disturbing underlying layers. You can use it thickly or thin. They can present rich, deep colors and maintain their intensity when dry. But for it is thinned with solvent or oils, you need to work in a well-ventilated area. It may be kind of wasting time for they are slow-drying, you can work on several paintings at once or use an alkyd medium to speed up drying. The brushes usually cleaned with solvent, oil or dishwashing liquid.
Watercolor Paint
Watercolors are the cheapest. It is mixed with water and the brushes cleaned with water which is very convenience. The paint can be lifted by rewetting, and if the paint squeezed from a tube has dried, you can add water to reuse it. However, it is quite transparent, it's hard to rectify or hide mistakes in watercolor paintings. Once dried, the colors are lighter than how they appeared when painting.
Pastels
There is no waiting time for pastels to dry. Colors are mixed on the paper, not on a palette, you can use pastels to create patterns by overlaying or blending. You can easily use it outside the studio and there is no tools needed to be clean. Oil-based pastel can be thinned and blended with turpentine, or scraped off to reveal colors underneath, known as sgraffito. But soft pastel works tend to be smudging and the pastel coming off the support.
After this introduction, I believe you already have an idea about which paint to choose, then start to paint! Before you start painting, some high quality art materials and tools are necessary. Hangzhou Medo Import and Export Co., Ltd. is a professional art material manufacturer, who producing artist watercolor paint sets, professional stretched canvas for painting, artist quality acrylic paint and various paintbrushes for beginners with best quality and reasonable price.