Sketching Blogger Recommended: Liz Steel
Views: 68 Author: Site Editor Publish Time: 2019-08-01 Origin: Site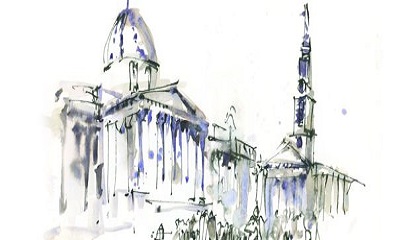 There is no doubt that painting is a creative and pleasant hobby. It's not surprising that many people like it. However, with many other creative pursuits, it is easy to exhaust creativity! So we can learn from those excellent and hard-working painting blogs, which give us so much inspiration and joy, and help us further pursue art. Next, I will introduce a famous sketching blogger named Liz Steel.
About Liz Steel
Liz Steel is an Australia artist and architect, based in Sydney. A friend introduced her to sketching by giving her a sketchbook as a gift, and she has been hooked on sketching and painting ever since. She loves to travel and has done so overseas extensively, capturing the world and her life around her as she goes. On her blog, she shares news and stories of her latest escapades while traveling, and of course, her most recent sketches, drawings, and paintings.
The Characteristics of Liz Steel's Painting
Liz specializes in sketching with ink, and going over it with wash. While that is the primary medium she focuses on, Liz says she likes to experiment with mixed media. These include sketching pencil, sketching pen, watercolor pens, watercolor pencils, and watercolor sketches. Her favorite things to sketch are local tearooms, Renaissance/Baroque architecture, and urban spaces. But really, Liz says she likes to sketch anything that catches her eye!
Her sketches capture urban life in beautiful detail, and we love the way she utilizes watercolor wash in some of her pieces. When she works with paint-only, she uses the juicy washes for the first pass and then switches to the paste for details. As a result she uses less water to wash, she missed them as there is a lot of magic to be found in the more watery parts of the sketch!
She usually starts her sketches with watercolors, and she rarely plans how her sketches will end. Instead, she just started to see her sketch lead her. This usually involves switching to ink at some point so she can quickly complete her sketch without waiting for her initial wash to dry.
The picture on the left depicts a complex scene of direct watercolors. The complexity of the scene and the ever-changing light (recurring clouds) make this sketch a bit stiff. The diagram on the right determines the line between the line and the wash, trying different options, techniques and styles.
Her painting palette didn't change conceptually for a few years, but she adjusted it from time to time to explore alternatives in the general category of colors. So please note that this is a test palette and does not lock these changes. It takes time to understand any new colors, so these colors will last at least a few weeks in her palette.
It's definitely important to understand the perspective and get her lines going the right direction, but there is so much more to creating a lively sketch of architecture. She only explore the structure, proportions, details and colors of this magnificent building herself without worrying about whether the angle is perfect.
I know you will find something helpful and interesting on many of the drawing blogs and resources from Liz Steel.And I also know that there are many other incredible painting bloggers that can inspire you. Enjoy all the fabulous new found knowledge.
Get professional sketching painting sets, please contact us. Hangzhou Medo Import and Export Co., Ltd. is a professional art material manufacturer, who producing sketch pencil, sketch easel, and drawing sketch pad with best price and high quality. Welcome to your messages.