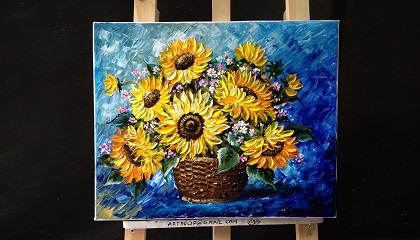 In modern life, acrylic painting art is reflected in all aspects. For example, traditional wall painting techniques, personality graffiti, and even painting on clothes. Propylene is a kind of magic pigment, it enriches our life.

Characteristics of Acrylic Pigments
A painting made with acrylic paint. This pigment was developed in the 1960s as a new type of pigment for painting, which was a mixture of chemically synthesized colloidal emulsions and color particles.
Acrylic colour set are better than other pigments in that they become flexible film after drying, strong, wear-resistant, water-resistant and corrosion-resistant.Anti - aging, no fading, no deterioration off.The picture is not reflective, easy to wash after painting, suitable for painting on shelves, indoor and outdoor murals, etc.Add powder and water, similar to gouache.Add a lot of water, can draw a watercolor, meticulous effect.Because the main adjustment of acrylic pigment water content is very large, so it is more appropriate to paint on the rough surface of easy water absorption, such as cardboard, cotton cloth, wood, stone wall, etc. Acrylic painting can be done with ordinary oil brush, painting knife, Chinese brush, watercolor brush, etc.Use non-absorbent ceramic, glass, and enamel containers for color palettes and pen washes.The acrylic pigment dries out after the water evaporates, so it is necessary to know the process when painting, so as to make the brush contact naturally and achieve the desired effect.
Compared with gouache, acrylic painting has the following differences:
1. Acrylic painting color dry and wet little change, more bright, pure, slightly shiny surface.
2. The pigment adheres firmly and can be modified repeatedly.Can be thick coating, without dry or peeling phenomenon, more suitable for a variety of painting techniques.
3. The picture is flat, which can avoid the problem that the picture crimp and deformation affect the visual effect after gouache painting is dry.
4. Isolation between layers and good stability.The disadvantage of acrylic painting is that it dries too fast, and is not suitable for long-term storage in the color mixing box. The paint on painting tools is easy to dry, and it is difficult to clean after dry.But these are not always unsolvable.
In general, there are more advantages in the use of acrylic painting sets.
A Brief Introduction of

Acrylic Use
1. Pigment Materials
Acrylic pigments are water-based.It is similar to the use of watercolor and gouache.Propylene is an emulsified plastic (a chemical process that combines water with plastic) that evaporates and no longer dissolves in water.It is not convenient to draw acrylic on paper because it is difficult to control the absorption of water (poor fluidity).Oil canvas, canvas board is better.As long as the canvas is a non-absorbent material.Best use is fine grain canvas, cotton cloth or linen (rain dew linen durable) can be. Acrylic pigment does not adhere to glass, enamel, ceramic materials, after dry water will fall off.In addition, as the chemical ingredients are very complex, it is recommended not to use multiple brands.
2. Drying Speed
Propylene according to the use of watercolor, gouache can: thin painting like watercolor, thick painting like gouache.Spray your palette with water every few minutes (depending on the weather) to keep it moist.By allowing the moisture in propylene to evaporate more slowly, the drying time can be delayed.But if the paint is as thick as an oil painting, it doesn't dry as easily.
3. Toner
Mixing utensils are suitable for glass, enamel, ceramic products, not plastic products.The size of the palette tool can be as you like, the unused paint is not wasted, and the spray cap can be stored for many days.The toner can be cleaned by soaking in water.In addition, the use of a soft cover of the pigment box, sealing is very good.
4. Water-spraying Tools
Spray nozzle fog with fine, should not use the nozzle, because it's fog is too thick, easy to cause too thin pigment.
5.Brush/ Painting/ Knife
If you use thin drawing, use watercolor and water chalk.If you use a thick brush, use an oil brush. Very thick drawing needs knife (plus plasticizer).
6. Outdoor Sketching
Outdoor, propylene water drying too fast to maintain water spray.Painting can usually be dry on the day, long distance sketching can be a lot of painting, do not worry about paint dry.
7. Draft for Painting
It is recommended to use charcoal bar and B pencil when drafting.Or with a very light acrylic pigment draft, with thin painting method, because of the acrylic pigment coverage force is weak, the first draft color is difficult to cover (to many times can be covered).
8. Brightness Effect
Acrylic painting brightness between oil painting and gouache, can be like oil painting spray a layer of varnish (spray than brush) or matte. Propylene also has the special UV varnish, but this UV varnish is very difficult to dry unless there is UV irradiation.
Propylene in the mixing of colors can be added a light glue, which will have a sense of brightness. Works in later custody, if it is thick painting, acrylic painting can be used semi-wet cloth, but it can't be suitable in thin painting.
Get professional acrylic painting sets, please contact us. Hangzhou Medo Import and Export Co., Ltd. is a professional art material manufacturer, who producing artist quality acrylic paint that conform to EN71 & ASTM D-4236, which is great for paper, canvas and wood. Also we have 18 months quality guarantee service with OEM & ODM acceptable to print your logo. If needed, we provide free samples and low MOQ for our acrylic paint sets. Welcome to your messages.